IKRON Greater Seattle - Staff Members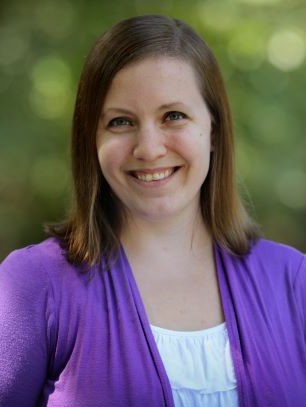 Jennifer Jefferies, MS, MHP, LMHC
Jennifer is a Licensed Mental Health Counselor. She recently moved to the Pacific Northwest and joined IKRON Greater Seattle in 2018. Jennifer completed her Master's degree in Counseling Psychology at Loyola University Maryland and her Bachelor's degree in Psychology from the University of Wisconsin. Jennifer has worked in a variety of behavioral health settings, including inpatient treatment and community mental health. Jennifer enjoys baking cookies in large quantities, reading thought-provoking novels, and searching out beautiful views in the Pacific Northwest.
Tisza Rutherford, MA, CDP 
Tisza Rutherford joined the IKRON team in Oct 2015. She started as IKRON Seattle's first Substance Use Disorder Professional and developed the recovery programs for the Bellevue and Redmond locations. Tisza continued as the Recovery Services Supervisor until 2018 when she was asked to step in as Interim Director. Having served as a licensed chemical dependency professional in Washington and Colorado for 15+ years, Tisza still maintains an active caseload and strives to do all she can to help individuals in need. She serves on several boards in the community and strives to educate the community in assisting individual residents struggling with addiction. In her free time, Tisza enjoys rock climbing with her family, trail running, hiking, biking, snowboarding and generally enjoying the great outdoors.
Hannah Roberts, BA, AAC
Hannah joined IKRON Greater Seattle in January 2017 on the Vocational team working with both adult and youth as a career specialist. Hannah has worked on multiple projects at IKRON including Youthworks, Health Homes, Foundational Community Support and now serves as the Vocational Director. Hannah is passionate about encouraging others to succeed and helping them to meet their goals. Hannah is originally from Issaquah, WA and graduated college from Seattle Pacific University in 2012. She enjoys hiking, cross country skiing, spending time with her husband and daughter and being involved in the community.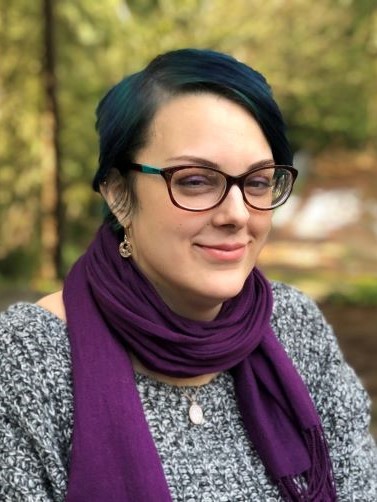 Alyssa Chamberlin, MA, LMHC, MHP, CDPT
Alyssa is a licensed Mental Health Counselor and Chemical Dependency Professional Trainee and has worked at IKRON of Greater Seattle since 2015 as a clinician and most recently a mental health supervisor! She holds a Master's degree in Community Counseling from Seattle University and a Bachelor's degree in Psychology from the University of Washington, as well as a Chemical Dependency Certification through City University of Seattle. Alyssa is a military brat who has lived all over the US (and Puerto Rico) but landed in Seattle. Her hobbies include painting, spending time with her dog and cat, and turning her hair colors nature never intended.
Ashley Burnette, BS, AAC, CDPT
Ashley began with IKRON last year as a practicum student, and is now employed as an Office Assistant while she finishes her internship. Ashley has a BS in psychology from Washington State University, and finishes her MaEd in Clinical Mental Health Counseling from Seattle University this summer. She is currently working towards her Chemical Dependency Professional licensure as well. One of the best things about working with IKRON is the supportive and authentic community that surrounds us. Ashley truly feels that she gains as much as she gives to this community, and is fueled by the generosity that IKRON seems to foster.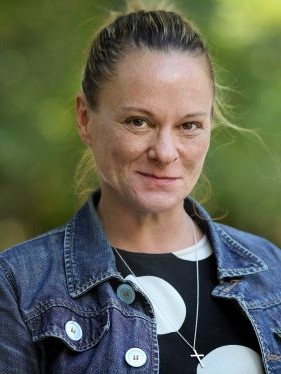 Carrie Jambresic, BA, AAC
Carrie joined IKRON in 2018 as a Vocational Specialist. Previously Carrie worked over ten years for local school districts coordinating immigrant families and nonnative speakers access to community resources, specifically she spent 2 years as a vocational counselor for Highline School District. She also worked for 8 years as the International Student Advisor at Seattle University where she enjoyed meeting and supporting students from all over the world. Carrie is passionate about making the world a more inclusive place especially for young people. In her free time Carrie loves spending time with her 2 sons and traveling. She loves all animals but especially enjoys the sport of dressage and jumping. Carrie has dreams of combining her love of horses and working with young people one day in a therapeutic capacity.
Cathy Burges, AAC, CDPT
Cathy happily joined IKRON as a Clinical Intern in October 2018. She works with both the Mental Health and Substance Use Disorder teams at IKRON and is currently completing her master's degree in Clinical Mental Health Counseling at Seattle University. Cathy moved to the Seattle area from the East Coast as a child and loves enjoying the region's natural beauty with friends and family in her free time.
Duane Hull, BA, AAC
Duane joined IKRON Greater Seattle as a Career Specialist in the Summer of 2018. Duane and his wife moved to the mild & rainy climate of Seattle from the hot desert of Arizona, but lived prior to that in the cold, snowy climate of Montana. He is very glad to be away from both the hot & cold.
Eugene Armijo
Eugene, or Gene, started as a volunteer in 2018 and was officially added to the team in March of 2019 as an office assistant and information clerk. His "well-rounded" employment background has allowed him to pick up skills in numerous fields, contributing to his Jack-of-all-trades duties around the office and willingness to help out with and learn any task. When not elbow-deep in paperwork Gene voraciously devours audio-books of all genres, pet sits, and is vigilantly on the look-out for any dogs visiting the Bellevue office who might want some love.
Fe Schneider
Fe currently serves as Office Coordinator for IKRON Greater Seattle. She first began with IKRON in July 2017 as a client in Vocational Services and after successfully completing a Community Based Assessment, she was granted employment with the IKRON team as Office Assistant. Originally from Montana, Fe moved to Washington in 2005 and now considers the wonderful Pacific Northwest to be her forever home. She enjoys discussing philosophy and spirituality, exploring the outdoors, and sharing her life with her dog and cat, CoCo and Gia.
Iris Sepe, BAS, CC, AAC, CDP
Iris is the Recovery Services Supervisor for IKRON Greater Seattle. Prior to joining the SUD team at IKRON at the beginning of 2017 Iris worked as an SUD clinician and general manager of Bridgeway Treatment Services LLC in Bellevue for the p six years. Iris is a graduate of Seattle Central College with a Bachelor's Degree in Applied Behavioral Science. Iris specializes in Dialectical Behavioral Therapy and Mindfulness and models her lifestyle after a Buddhist Philosophy. Iris has lived in the Pacific Northwest for the past 35 years growing up in the San Juan Islands before moving down to the city to become a Seattleite.
Kim Murer, BA, AAC
Kim is new to IKRON as of March 2019, joining the Vocational Team as an Employment Specialist. She grew up in Southern Connecticut and graduated from Central Connecticut State University in 2011 with a BA in Psychology. She moved to Seattle in 2012 and began to work with the city's homeless population. She spent a number of years doing case management at Plymouth Housing Group and most recently worked at Aurora Commons as an advocate for commercially sexually exploited women. She is also an AmeriCorps alumni. Kim is excited to be joining IKRON and to be expanding her skills and work experience here.
Outside of work, Kim participates in endurance events, including running marathons and long distance triathlons. She is also a certified lifeguard and personal trainer. Most importantly, she enjoys drinking coffee and napping with her dog, a rescued greyhound named Frank.
Kimbra Willings-Orozco, ARNP, PMHNP-BC
Kimbra Willings-Orozco, ARNP, is one of the board certified Psychiatric Mental Health Nurse Practitioners who provide medication management services for IKRON of Greater Seattle. She joined IKRON of Greater Seattle in February 2018. She is currently working on her Doctorate of Nursing Practice at Vanderbilt University where she previously completed her training as a psychiatric mental health nurse practitioner and as a family nurse practitioner. Go Dores! Kimbra recently relocated to the Puget Sound. When not working, or going to school, she enjoys spending time with her husband, teenage daughter and Golden Retriever exploring all the Pacific Northwest has to offer.
Krista Logue, AAC
Krista began working at IKRON in the Fall of 2014. After going through some major life changes, she was so thankful to be given the opportunity to work here. The ability to be able to help people from all walks of life has always been a major passion of Krista's. She feels she has been fortunate enough to take on a few different roles at IKRON, with the majority of them being able to work with individuals to help them find employment. More recently she has started doing Case Management as well as overseeing some of the operations of IKRON. Krista lives just North of Seattle with her husband, two daughters, and their escue dog name Raynee! She enjoys reading, watching Netflix, being anywhere near the ocean, and going to Disneyland!
Lindey Ginther, CDP
Lindey joined the IKRON team as a Substance Use Clinician in November 2018. Lindey completed her Associates degree in Human Services with an emphasis in Chemical Dependency at Grays Harbor College. Prior to joining the IKRON team, Lindey has worked with Medication Assisted Treatment and in a Native American inpatient treatment facility as a Substance Use Clinician. Lindey was born and raised in the Pacific Northwest living in the small coastal town of South Bend, Washington until moving to the Seattle area in July 2018. Lindey loves the western WA summers and loves to be outdoors with her dog, Finley. She enjoys fishing, hiking, traveling and seeing new places.
Lisa Trigg, PhD, ARNP
Lisa joined IKRON in 2018 as a psychiatric provider. She earned her BSN at Seattle University, and her MN and PhD at the University of Washington. She has worked in the psych-mental health field for many years, first as a bedside nurse in university based hospitals in the Seattle area, and later as a psychiatric nurse practitioner in acute care inpatient settings, community mental health care, and both inpatient and outpatient geropsychiatry. She has extensive experience in crisis intervention for patients with all mental health diagnoses, as well as chemical dependency. She enjoys mentoring psych-mental health ARNP students. Away from work, Lisa is a poet and fiction writer, and loves ballroom dancing and taking care of her four dogs, five parrots, and two cats. She reads all kinds of literature on her Kindle now because she is out of room for more books.
Melissa Watson, MA, MHP, LMHCA
Melissa is a Mental Health Counselor and Art therapist working for IKRON since spring 2018. She earned her masters degree from Antioch University in 2017 and is nearing completion of EMDR training. Melissa is a Seattle native and enjoys art-making, yoga/meditation, dreamwork, and paddle boarding in all seasons of the Pacific Northwest.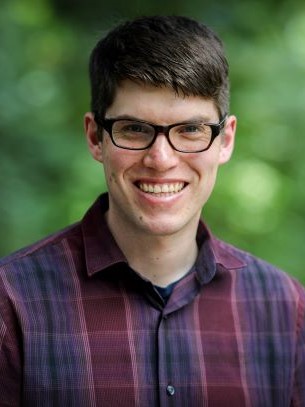 Travis Miner, BS, AAC
Travis began at IKRON Greater Seattle as a practicum student in the spring of 2015. At the time, he was working towards earning his Bachelor's degree in Health Psychology from Bastyr University. Travis completed his degree in June 2016. At IKRON, he fulfills the role of Management Information Systems Specialist and is involved in a variety of administrative tasks. Travis is also a Certified Peer Counselor. He lives in North Seattle and enjoys making music and spending time with family.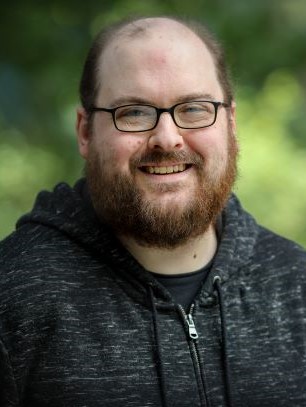 Warren Barlow
Warren is one of our own IKRON success stories. After completing his degree in business intelligence at Bellevue College he was assisted by the Division of Vocational Rehabilitation and IKRON's vocational team in revealing his skills. With the confidence gained he was able to shine and gained a permanent position at IKRON working closely with King County on billing and easing IKRON through our technical transitions.